PDXpert PLM Software
Simple, flexible product lifecycle management software for growing companies™
CIO Review: 20 Most Promising PLM Solution Providers
Business processes, engineering, software development, design, analysis, and other activities that comprise an enterprise's operation, mandates an improved model to support the complex process of product development.
Product Lifecycle Management is an essential step in innovation. But new products consume a lot of time from development to get to the market stage. Without a reliable system to track the creation and execution of a new product, the development process can go over budget and consume a lot of resources. Product Lifecycle Management (PLM) solutions are designed and implemented to make the development stage of products more transparent. This transparency aids in reducing the development cycle and helps deliver the product to the market in a short duration thus boosting profits and keeping checks on resources spent.
In this issue of CIO Review, we present the 20 Most Promising PLM Solution Providers of 2015, featuring the best solution providers offering technologies and service that aid in Product Lifecycle Management. The firms compiled in this issue have exhibited vast knowledge and in-depth expertise in delivering PLM solutions.
A distinguished panel comprising of CEOs, CIOs, CMOs, analysts, and the CIO Review editorial board have selected the top players from the competitive field of PLM Solutions. This listing gives an insight into the solutions currently available in the market and how they help their clients gain market advantage and thwart competition.
Active Sensing, Inc. – Breaking the Myth of Complex and Expensive PLM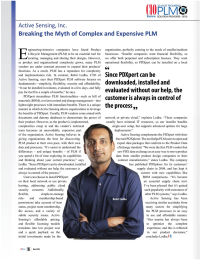 Engineering-intensive companies have found Product Lifecycle Management (PLM) to be an essential tool for creating, managing and sharing their designs. However, as product and organizational complexity grows, many PLM vendors are under constant pressure to expand their products' functions. As a result, PLM has a reputation for complexity and implementation risk.
In contrast, Rohit Lodha, CTO of Active Sensing, says their PDXpert PLM software focuses on fundamentals—simplicity, flexibility, security and affordability. "It can be installed in minutes, evaluated in a few days, and fully pay for itself in a couple of months," he says.
PDXpert streamlines PLM functionalities — such as bill of materials (BOM), revision control and change management — into lightweight processes with immediate benefits. There is a unique manner in which Active Sensing allows organizations to leverage the benefits of PDXpert. Usually, PLM vendors come armed with documents and dummy databases to demonstrate the power of their product. However, as the product is implemented, complexities creep in and the vendor's technical team becomes an unavoidable, expensive part of the organization. Active Sensing believes in giving organizations the time for discovering PLM product at their own pace, with their own data and processes. "It's easier to understand the differences – and unique benefits – of PLM if you spend a bit of time exploring its capabilities and thinking about your current practices," says Lodha. "Since PDXpert can be downloaded, installed and evaluated without our help, the customer is always in control of the process."
Users can choose to install PDXpert on their local network or use private hosting, addressing public cloud security concerns. Additionally, flexible, simple-to-manage role- and membership-based permissions take account of item status, project team membership, file access, and a variety of subtle security issues. Active Sensing's affordable pricing and flexible licensing models translates into low project cost and a quick payback on the initial investments made by the organization, perfectly catering to the needs of smaller/medium businesses. "Smaller companies want financial flexibility, so we offer both perpetual and subscription licenses. They want operational flexibility, so PDXpert can be installed on a local network or private cloud," explains Lodha. "These companies usually have minimal IT resources, so our installer handles single-user setup, but supports advanced options for large deployments."
Active Sensing complements the PDXpert with their free tool PDXplorer. The tool helps PLM users to open and export data packages that conform to the Product Data eXchange standard. "We were the first PLM vendor that saw PDX data exchange as an easy way to move product data from smaller product design companies to their contract manufacturers," states Lodha. The company has published PDXplorer for its customers' supply chain in 2004, and has kept it current with new capabilities like BOM comparisons. "It's become an essential supply chain tool. I've been pleased that it's gained such popularity with customers of other PLM systems," says Lodha.
Active Sensing has been receiving similar accolades from many sectors for simplifying the PLM processes in an easy to use and affordable manner. "Our mantra has always been to optimize the complete experience, and this is reflected in our product decisions," concludes Lodha.
PDXpert Features
Learn More