PDXpert PLM Software
Simple, flexible product lifecycle management software for growing companies™
PLM ensures compliance with regulatory requirements
It's a world of regulations
Obviously, regulatory mandates and contractual requirements simply can't be ignored.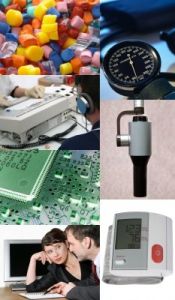 Medical device manufacturers must comply with governmental agency standards, such as Food & Drug Administration (FDA) 21 CFR Part 820, and commercial standards for medical devices, such as ISO 13485 and UL 60601-1. Supply chains must conform to environmental regulations, such as the European RoHS and WEEE directives1, and the automobile industry's waste management initiatives ("ELV").
Even in industries unaffected by these regulations, customers are increasingly negotiating recognized configuration management practices, such as ISO 10007 and ANSI/EIA-649, into their supplier contracts.
PDXpert PLM helps meet your obligations
A product lifecycle management (PLM) system can help manage your 21CFR820 device master record (DMR) by supporting identification and traceability, facilitating your control of nonconforming product, documenting preventative actions, and otherwise enhancing the quality system record.
PDXpert PLM supports RoHS/WEEE/ELV compliance with features such as materials identification (including reporting thresholds and CAS number), assembly material mass (weight) roll-ups, and Material Declaration reporting (% and PPM) for any physical item or assembly.
These capabilities translate directly into real benefits including increased sales revenue through faster product releases; lower product costs by using more accurate BOMs; and lower administrative overhead by providing important compliance reporting automatically.
Discover how PDXpert PLM can help reduce the expense of regulatory compliance. We invite you to:
Documents & Files
PDXpert Features
Learn More