PDXpert PLM Software
Press Release
PDXpert 15.0 Adds Innovative Security Features
PDXpert PLM software introduces security and flexibility to industry PDX file format
DENVER, Colorado, January 19, 2022 -- Active Sensing, Inc. is pleased to introduce SHA-256 cryptographic features to industry-standard IPC-2570 ("PDX") packages. The latest PDXpert PLM software release 15.0 uses public key encryption to sign engineering data packages, and embeds a signing certificate within the PDX package for optional AES-256 password protection. A detailed technical specification describes the implementation for software developers.
PDXpert now also supports customizable PDX export definitions, allowing frequently-used package content to be saved as templates that can be further modified as each package is exported. The supported set of IPC-2570 attributes has expanded, and PDX packages can exceed the original size limits defined by IPC-2570.
PDXplorer™ software, the world's most popular PDX package reader, now reads signed PDX packages and protects engineering data packages using cryptographically-strong passwords. PDXplorer can also read design packages larger than 4GB.
PDXpert 15.0 includes many other improvements, including updated window layouts, currency exchange rate services, and system installer features.
About PDXpert PLM software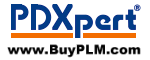 PDXpert PLM software is simple to use, flexible to apply, and improves the accessibility and security of your design data. It offers part & supplier management; bill of material (BOM) and formula management; document & file revision control; engineering change management with approval workflow; free-form text search; multi-user access; and data export. Host on-site or install in your private cloud.
ASI's product website, BuyPLM.com, offers a simple PLM software experience. BuyPLM.com offers free, fully-functional trial software via download; helpful on-line training materials; attractive published pricing; and flexible perpetual- and subscription-based licensing alternatives. Questions are answered by a friendly, knowledgeable support team.
About Active Sensing, Inc.
For over 25 years, Active Sensing, Inc. (ASI) has been delivering affordable product management solutions for manufacturing companies around the world, from growing start-ups to the Fortune 500. Unique in the PLM industry, ASI strives for a simple, no-hassle PLM experience. ASI offers fully-functional trial systems that can be downloaded and evaluated prior to purchase; published prices and discounts; choice of perpetual or subscription licenses; fast and easy installation; straight-forward application administration; and an easily-understood user interface.
PDXpert® is a registered trademark, and the PDXpert, PDXplorer, PLMX and Active Sensing names and logos are trademarks of Active Sensing, Inc. All other product names are trademarks or registered trademarks of their respective holders.