PDXpert PLM Software
Press Release
PDXpert Release 16.0 Expands User Access Control
PDXpert PLM software adds new user permissions and system rules for product teams
DENVER, Colorado, October 2, 2022 -- PDXpert PLM software release 16.0 rewrites product team collaboration by putting part and document record attributes into well-defined groups. Record trustees can then apply these groups to the records, thus sharing development tasks with specialist roles within the team. New system rules allow administrators to specify how tasks and file attachments are accessed during change workflow, and new batch import templates enable updates to both teams and their assigned item records. Change workflows are improved using new rework path options, and affected items are color-coded to show release/revise/cancel status.
Other improvements include significantly expanded information about user tasks using pop-up windows to show more detail for items and tasks. Priorities assigned to change forms now flow through to related user tasks for sorting. Part and document Appears On lists have new layouts, expanded pop-up information, and can be sources for drag and drop to other item lists. Windows Server 2022 and SQL Server 2022 have been qualified for use with PDXpert 14.0, 15.0 and 16.0.
About PDXpert PLM software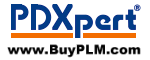 PDXpert PLM software is simple to use, flexible to apply, and improves the accessibility and security of your design data. It offers part & supplier management; bill of material (BOM) and formula management; document & file revision control; engineering change management with approval workflow; free-form text search; multi-user access; and data export. Host on-site or install in your private cloud.
ASI's product website, BuyPLM.com, offers a simple PLM software experience. BuyPLM.com offers free, fully-functional trial software via download; helpful on-line training materials; attractive published pricing; and flexible perpetual- and subscription-based licensing alternatives. Questions are answered by a friendly, knowledgeable support team.
About Active Sensing, Inc.
For over 25 years, Active Sensing, Inc. (ASI) has been delivering affordable product management solutions for manufacturing companies around the world, from growing start-ups to the Fortune 500. Unique in the PLM industry, ASI strives for a simple, no-hassle PLM experience. ASI offers fully-functional trial systems that can be downloaded and evaluated prior to purchase; published prices and discounts; choice of perpetual or subscription licenses; fast and easy installation; straight-forward application administration; and an easily-understood user interface.
PDXpert® is a registered trademark, and the PDXpert, PDXplorer, PLMX and Active Sensing names and logos are trademarks of Active Sensing, Inc. All other product names are trademarks or registered trademarks of their respective holders.