PDXpert PLM Software
Press Release
PDXpert PLM Software Selected by CIO Review
Active Sensing, Inc. breaks the myth of complex and expensive PLM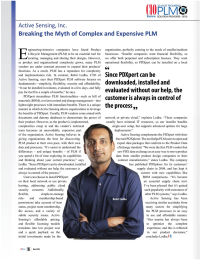 DENVER, Colorado, April 21, 2015 — Active Sensing, Inc. (ASI) is pleased to announce that it's been selected by CIO Review magazine as one of twenty most promising PLM solution providers for its PDXpert® product lifecycle management software.
In the article Breaking the Myth of Complex and Expensive PLM, CIO Review states that "PDXpert streamlines PLM functionalities — such as bill of materials (BOM), revision control and change management — into lightweight processes with immediate benefits." Furthermore, "Active Sensing's affordable pricing and flexible licensing models translates into low project cost and a quick payback on the initial investments made by the organization, perfectly catering to the needs of smaller/medium businesses."
CIO Review interviewed Rohit Lodha, ASI Chief Technology Officer, who discussed PDXpert software's four fundamentals: simplicity, flexibility, security and affordability. "Smaller companies want financial flexibility, so we offer both perpetual and subscription licenses. They want operational flexibility, so PDXpert can be installed on a local network or private cloud," explains Lodha. "These companies usually have minimal IT resources, so our installer handles single-user setup, but supports advanced options for large deployments."
The latest PDXpert PLM release includes enterprise-class features such as Active Directory authentication, client communications encryption ("single-click VPN"), and out-of-office user substitutions. A unique client-side parts list cache supports ODBC-compliant CAD like Altium Designer, OrCAD CIS and Mentor Graphic's PADS DxDesigner. Standard PLM features include part and BOM management, approved source control, flexible item number assignment, file revision control, and engineering change workflow with email notifications.
ASI's product website, BuyPLM.com, offers a simple PLM software experience. BuyPLM.com offers free, fully-functional trial software via download; helpful on-line training materials; attractive published pricing; and flexible perpetual- and subscription-based licensing alternatives. Questions are answered by a friendly, knowledgeable support team.
About Active Sensing, Inc.
For over 20 years, Active Sensing, Inc. (ASI) has been delivering affordable product management solutions for manufacturing companies around the world, from growing start-ups to the Fortune 500. Unique in the PLM industry, ASI strives for a simple, no-hassle PLM experience. ASI offers fully-functional trial systems that can be downloaded and evaluated prior to purchase; published prices and discounts; choice of perpetual or subscription licenses; fast and easy installation; straight-forward application administration; and an easily-understood user interface.
PDXpert® is a registered trademark, and the PDXpert, PDXplorer, PLMX and Active Sensing names and logos are trademarks of Active Sensing, Inc. All other product names are trademarks or registered trademarks of their respective holders.