PDXpert PLM Software
Press Release
PDXpert PLM software is Desktop Engineering's Pick of the Week
"PDXpert could be the solution that you've been waiting for," says editor Tony Lockwood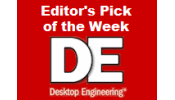 CASTLE ROCK, Colorado -- Active Sensing, Inc. (ASI) has been honored with Desktop Engineering magazine's prestigious Editor's Pick of the Week award for its recently-released PDXpert® PLM 2010 Edition product lifecycle management software.
Anthony J. Lockwood, Editor at Large of Desktop Engineering, states "PDXpert gets you into PLM without busting the bank or compromising on the vital functionality that you need to get control over your data and processes". He explains that "PDXpert has the most-wanted PLM functionality needed by small enterprises: bills of materials, vaulting, document control, configuration management, workflow management, engineering change request and change orders, supplier source management, automatic rules-based document and part numbering, standardized approvals, and so on."
"Your data is your most valuable asset," concludes Mr. Lockwood. "It deserves better than ad hoc control processes. PDXpert could be the solution that you've been waiting for."
In the separate product write-up, Desktop Engineering editors emphasize PDXpert's extensive capabilities as well as its affordability: "Pricing begins at $999 for a one-time, perpetual single-user license. Annual maintenance, support, and upgrade subscription for that single user is $249. Multiuser rates are scaled. Pricing includes the PDXpert PLM application server, client software, and training materials."
About Desktop Engineering
Published both online and in print by Level 5 Communications, Desktop Engineering is the knowledge leader that design engineers and engineering managers rely upon to succeed in a global manufacturing market. Desktop Engineering's 63,000 subscribers and 80,000 online visitors stay informed about new technology products and mission-critical applications daily at http://www.digitaleng.news/de/, weekly via e-newsletters, and monthly with Desktop Engineering magazine.
About Active Sensing, Inc.
For over 15 years, Active Sensing, Inc. (ASI) has been providing affordable product management solutions for manufacturing companies around the world, from start-ups to the Fortune 500. Unique in the PLM industry, ASI strives for a simple, no-hassle PLM experience with fully-functional trial systems that can be downloaded and evaluated prior to purchase; published prices and discounts; choice of perpetual or subscription licenses; fast and easy installation; straight-forward application administration; and an easily-understood user interface.
PDXpert® is a registered trademark, and the PDXpert, PDXplorer, PLMX and Active Sensing names and logos are trademarks of Active Sensing, Inc. All other product names are trademarks or registered trademarks of their respective holders.